---
Allen heath gl 2400 owners manual
This is the 40 pages manual for allen heath gl 2400 owners manual.
Read or download the pdf for free. If you want to contribute, please mail your pdfs to info@audioservicemanuals.com.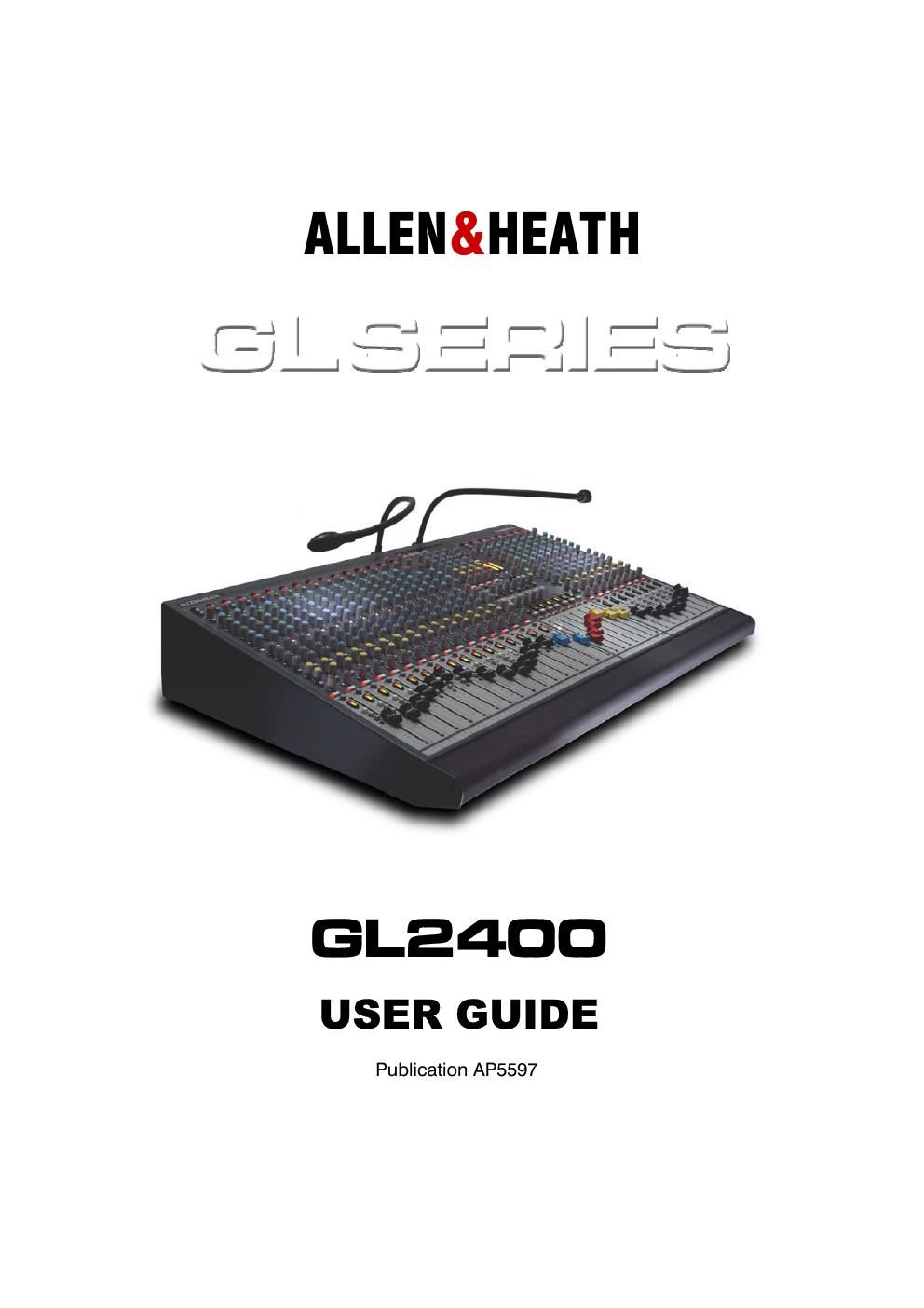 Extracted text from allen heath gl 2400 owners manual (Ocr-read)
---
Page 1
2 GL2400 User Guide This product complies with the European Electromagnetic Compatibility directives 89/336/EEC & 92/31/EEC and the European Low Voltage Directives 73/23/EEC & 93/68/EEC. This product has been tested to EN55103 Parts 1 & 2 1996 for use in Environments E1, E2, E3, and E4 to demonstrate compliance with the protection requirements in the European EMC directive 89/336/EEC. During some tests the specified performance figures of the product were affected. This is considered permissible and the product has been passed as acceptable for its intended use. Allen & Heath has a strict policy of ensuring all products are tested to the latest safety and EMC standards. Customers requiring more information about EMC and safety issues can contact Allen & Heath. NOTE: Any changes or modifications to the console not approved by Allen & Heath could void the compliance of the console and therefore the user-™s authority to operate it. GL2400 User Guide AP5597 Issue 2 Copyright © 2005 Allen & Heath Limited. All rights reserved Allen & Heath Limited Kernick Industrial Estate, Penryn, Cornwall, TR10 9LU, UK http://www.allen-heath.com Limited One Year Warranty This product is warranted to be free from defects in materials or workmanship for a period of one year from the date of purchase by the original owner. To ensure a high level of performance and reliability for which this equipment has been designed and manufactured, read this User Guide before operating. In the event of a failure, notify and return the defective unit to Allen & Heath Limited or its authorised agent as soon as possible for repair under warranty subject to the following conditions Conditions Of Warranty 1. The equipment has been installed and operated in accordance with the instructions in this User Guide 2. The equipment has not been subject to misuse either intended or accidental, neglect, or alteration other than as described in the User Guide or Service Manual, or approved by Allen & Heath. 3. Any necessary adjustment, alteration or repair has been carried out by Allen & Heath or its authorised agent. 4. This warranty does not cover fader wear and tear. 5. The defective unit is to be returned carriage prepaid to Allen & Heath or its authorised agent with proof of purchase. 6. Units returned should be packed to avoid transit damage. In certain territories the terms may vary. Check with your Allen & Heath agent for any additional warranty which may apply.
Page 2
GL2400 User Guide 3 Important Safety Instructions WARNINGS - Read the following before proceeding : ATTENTION: RISQUE DE CHOC ELECTRIQUE -" NE PAS OUVRIR Read instructions: Read and retain these safety and operating instructions for future reference. Adhere to all warnings printed here and on the console. Follow the operating instructions printed in this User Guide. Do not remove cover: Operate the console with its underside cover correctly fitted. Disconnect mains power by unplugging the power cord if the cover needs to be removed for setting internal options. Refer this work to competent technical personnel only. Power sources: Connect the console to a mains power outlet only of the type described in this User Guide and marked on the rear panel. Use the power cord with sealed mains plug appropriate for your local mains supply as provided with the console. If the provided plug does not fit into your outlet consult your service agent for assistance. Power cord routing: Route the power cord so that it is not likely to be walked on, stretched or pinched by items placed upon or against it. Grounding: Do not defeat the grounding and polarisation means of the power cord plug. Do not remove or tamper with the ground connection in the power cord. Water and moisture: To reduce the risk of fire or electric shock do not expose the console to rain or moisture or use it in damp or wet conditions. Do not place containers of liquids on it which might spill into any openings. Ventilation: Do not obstruct the rear and top ventilation slots or position the console where the air flow required for ventilation is impeded. If the console is to be operated in a flight case, plinth or other furniture ensure that it is constructed to allow adequate ventilation. Heat and vibration: Do not locate the console in a place subject to excessive heat or direct sunlight as this could be a fire hazard. Locate the console away from any equipment which produces heat or causes excessive vibration. Servicing: Switch off the equipment and unplug the power cord immediately if it is exposed to moisture, spilled liquid, objects fallen into the openings, the power cord or plug become damaged, during lightning storms, or if smoke, odour or noise is noticed. Refer servicing to qualified technical personnel only. Installation: Install the console in accordance with the instructions printed in this User Guide. Do not connect the output of power amplifiers directly to the console. Use audio connectors and plugs only for their intended purpose. CAUTION WARNING: This equipment must be earthed.