---
Aiwa UZ PS128 Owners Manual
This is the 20 pages manual for Aiwa UZ PS128 Owners Manual.
Read or download the pdf for free. If you want to contribute, please mail your pdfs to info@audioservicemanuals.com.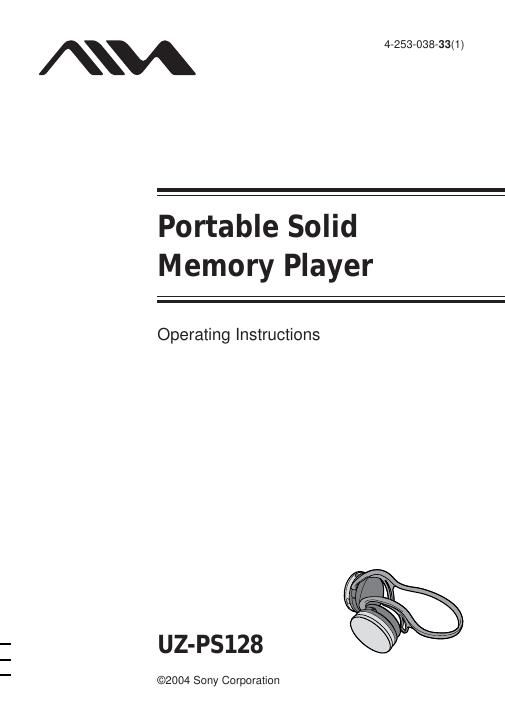 Extracted text from Aiwa UZ PS128 Owners Manual (Ocr-read)
---
Page 1
2 WARNING To prevent fire or shock hazard, do not expose the unit to rain or moisture. To prevent fire, do not cover the ventilation of the apparatus with news papers, table cloths, curtains, etc. And don-™t place lighted candles on the apparatus. Certain countries may regulate disposal of the battery used to power this product. Please consult with your local authority. For the customers in the United States Owner-™s RecordThe model number is located on the inner rim of the left ear side of the headphones, and the serial number is located on the inner rim of the right ear side of the headphones Record the serial number in the space provided below Refer to them whenever you call your Aiwa dealer regarding this product Model No UZ-PS128 Serial No NOTEThis equipment has been tested and found to comply with the limits for a Class B digital device, pursuant to Part 15 of the FCC Rules These limits are designed to provide reasonable protection against harmful interference in a residential installation This equipment generates, uses, and can radiate radio frequency energy and, if not installed and used in accordance with the instructions, may cause harmful interference to radio communications However, there is no guarantee that interference will not occur in a particular installation If this equipment does cause harmful interference to radio or television reception, which can be determined by turning the equipment off and on, the user is encouraged to try to correct the interference using one or more of the following measures: -" Reorient or relocate the receiving antenna -" Increase the separation between the equipment and receiver -" Connect the equipment into an outlet on a circuit different from that to which the receiver is connected -" Consult the dealer or an experienced radio/TV technician for help CAUTIONYou are cautioned that any changes or modifications not expressly approved in this manual could void your authority to operate this equipment The shielded interface cable recommended in this manual must be used with this equipment in order to comply with the limits for a digital device pursuant to Subpart B of Part 15 of FCC Rules If you have any questions about this product, you may call; Aiwa Customer Information Service Center 1-800-289-2492 or http://www us aiwa com/ Declaration of ConformityTr ade Name: AIWA Model No : UZ-PS128 Responsible Party: Sony Electronics Inc Address: 16450 W Bernardo Dr, San Diego, CA 92127 U S A Telephone No : 858-942-2230 This device complies with part 15 of the FCC rules Operation is subject to the following two conditions: (1) This device may not cause harmful interference, and (2) this device must accept any interference received, including interference that may cause undesired operation Before using this player, install the application software on y our computer using the supplied CD-ROM, and send some music data to the player.
Page 2
3 Overview What you can do with your player ............. 4 Main features .............................................. 5 Getting started Step 1: Check the package contents. .......... 6 Step 2: Insert a battery. ............................... 7 Locating controls ........................................ 8 Basic operations Listening to music stored in your player .... 9 1. Put the player on your ears. .................... 9 2. Start playback. ...................................... 10 Recording from another audio device ...... 12 Erasing tracks one by one ......................... 13 B Advanced operations Changing the sound quality (M.D.S.E) .... 14 Playing a track repeatedly (Repeat Play) ........................................ 14 Using the player as stereo headphones ..... 15 B Additional information Precautions ............................................... 16 Cleaning .................................................... 16 Troubleshooting ........................................ 17 Specifications ........................................... 18 Index ......................................................... 19 Table of Contents
Page 18
Additional information 19 Index A Auto Power Off 10 Auto Track 13 B Battery 7 C, D Cleaning 16 Connecting to another audio device 12, 15 E, F, G Erasing tracks 13 H, I, J, K Headphones Putting on 9 Using as stereo headphones 15 L Locating the first track 11 M, N, O M.D.S.E (MP3 Digital Sound Enhancer) 14 Music Transfer Solid Memory Edition 4 P, Q Playback 10 Precautions 16 R Recording 12 Repeat Play 14 S Skip/search 11 T, U Transfer 4 Troubleshooting 17 V, W, X, Y, Z Volume 10, 11