---
Aiwa CSD TD901 Owners Manual
This is the 26 pages manual for Aiwa CSD TD901 Owners Manual.
Read or download the pdf for free. If you want to contribute, please mail your pdfs to info@audioservicemanuals.com.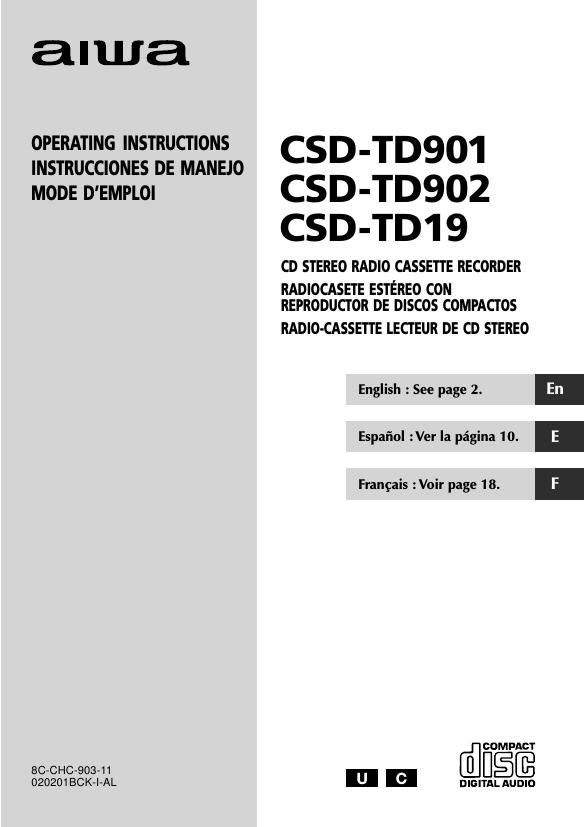 Extracted text from Aiwa CSD TD901 Owners Manual (Ocr-read)
---
Page 1
2 ENGLISH IMPORTANT SAFETY Read the Operating Instructions carefully and completely before operating the unit. Be sure to keep the Operating Instructions for future reference. All warnings and cautions in the Operating Instructions and on the unit should be strictly followed, as well as the safety suggestions below. WarningTo prevent electric shock or injury, these safety instructions should be followed in the installation, use and servicing the unit. InstallationAttachments -" Do not use attachments not recommended by the unit manufacturer as they may result in the risk of fire, electric shock or injury to persons. Water and Moisture -" Do not use this unit near water - for example, near a bathtub, washbowl, kitchen sink, or laundry tub, in a wet basement, or near a swimming pool, and the like. Heat -" Do not use this unit near sources of heat, including heating vents, stoves, or other appliances that generate heat. It also should not be placed in temperatures less than 5ËšC (41ËšF) or greater than 35ËšC (95ËšF). Mounting surface -" Place the unit on a flat, even surface. Accessories -" Do not place this unit on an unstable cart, stand, tripod, bracket, or table. The unit may fall, causing serious injury to a child or an adult, and serious damage to the appliance. Use only with a cart, stand, tripod, bracket, or table recommended by the manufacturer, or sold with the unit. Any mounting of the appliance should follow the manufacturers instructions, and should use a mounting accessory recommended by the manufacturer. Portable cart -" An appliance and cart combination should be moved with care. Quick stops, excessive force, and uneven surfaces may cause the appliance and cart combination to overturn. Ventilation -" The unit should be situated with adequate space around it so that proper heat ventilation is assured. Allow 10 cm clearance from the rear and the top of the unit, and 5 cm from the each side. Slots and openings in the cabinet and the back or bottom are provided for ventilation, and to ensure reliable operation of the unit and to protect it from overheating, these openings must not be blocked or covered. The openings should never be blocked by placing the unit on a bed, sofa, rug or other similar surface. This unit should not be placed in a built-in installation such as a bookcase unless proper ventilation is provided. WARNINGTO REDUCE THE RISK OF FIRE OR ELECTRIC SHOCK, DO NOT EXPOSE THIS APPLIANCE TO RAIN OR MOISTURE. Explanation of Graphical Symbols: The lightning flash with arrowhead symbol, within an equilateral triangle, is intended to alert the user to the presence of uninsulated dangerous voltage within the products enclosure that may be of sufficient magnitude to constitute a risk of electric shock to persons. The exclamation point within an equilateral triangle is intended to alert the user to the presence of important operating and maintenance (servicing) instructions in the literature accompanying the appliance. OWNERS RECORDFor your convenience, record the model number (you will find it at the bottom of the unit) and serial number (you will find it in the battery compartment) in the space provided below. Please refer to them when you contact your AIWA dealer in case of difficulty. Model No. Serial No. CAUTION:TO REDUCE THE RISK OF ELECTRIC SHOCK, DO NOT REMOVE COVER (OR BACK). NO USER-SERVICEABLE PARTS INSIDE. REFER SERVICING TO QUALIFIED SERVICE PERSONNEL. CAUTION RISK OF ELECTRIC SHOCK DO NOT OPEN
Page 2
ENGLISH 3 En Object and Liquid Entry -" Never push objects of any kind into this unit through the cabinet slots as they may touch dangerous voltage points or short-circuit parts that could result in a fire or electric shock. Never spill liquid of any kind on the unit. Electric PowerPower Sources -" This unit should be operated only from the type of power source indicated on the marking label. If you are not sure of the type of power supply to your home, consult your appliance dealer or local power company. To operate unit on battery power, or other sources, refer to the operating instructions. Grounding or Polarization -" This unit is provided with a polarized alternating-current line plug (a plug having one blade wider than the other). This plug will fit into the power outlet only one way. This is a safety feature. If you are unable to insert the plug fully into the outlet, try reversing the plug. If the plug should still fail to fit, contact your electrician to replace your obsolete outlet. Do not defeat the safety purpose of the polarized plug. Power-Cord Protection -" Power-supply cords should be routed so that they are not likely to be walked on or pinched by items placed upon or against them, paying particular attention to cords at plugs, convenience receptacles, and the point where they exit from the product. Overloading -" Do not overload wall outlets, extension cords, integral convenience receptacles as this can result in a risk of fire or electric shock. LightningFor added protection for this unit receiver during a lightning storm, or when it is left unattended and unused for long periods of time, unplug it from the wall outlet. This will prevent damage to the unit due to lightning and powerline surges. MaintenanceCleaning -" Unplug this unit from the wall outlet before cleaning. Do not use liquid cleaners or aerosol cleaners. Use a damp cloth for cleaning. Condensation -" Moisture may form on the CD pickup lens when: - The unit is moved from a cold spot to a warm spot - The heating system has just been turned on - The unit is used in a very humid room - The unit is cooled by an air conditioner When this unit has condensation inside, it may not function normally. Should this occur, leave the unit for a few hours, then try to operate again. INSTRUCTIONS Damage Requiring ServiceUnplug this unit from the wall outlet and refer servicing to qualified service personnel under the following conditions: 1) When the power cord or plug is damaged. 2) If liquid has been spilled, or objects have fallen into the unit. 3) If the unit has been exposed to rain or water. 4) If the unit does not operate normally by following the operating instructions. Adjust only those controls that are covered by the operating instructions as improper adjustment of other controls may result in damage and will often require extensive work by a qualified technician to restore the unit to normal operation. 5) If the unit has been dropped or the cabinet has been damaged. 6) When the unit exhibits a distinct change in performance - this indicates a need for service. Do not attempt to service this unit yourself as opening or removing covers may expose you to dangerous voltage or other hazards. Refer all servicing to qualified service personnel. Replacement Parts -" When replacement parts are required, be sure the service technician has used replacement parts specified by the manufacturer or having the same characteristics as the original part. Unauthorized substitutions may result in fire, electric shock or other hazards. Safety Check -" Upon the completion of any service or repairs to this unit, ask the service technician to perform safety checks to determine that the unit is in proper operating condition.
Page 21
22 FRANÇAIS 1 Sélectionner RADIO avec FUNCTION.Lappareil se met sous tension. 2 Appuyer de façon répétée sur s STOP/ BAND pour sélectionner la gamme. FM AM La station écoutée en dernier est reçue. 3 Appuyer sur r, t (TUNING DOWN, UP) pour sélectionner la station. Pendant une réception FM stéréo, sallume. Lécoute terminée, sélectionner TAPE/6STANDBY avec FUNCTION pour mettre hors tension. Pour améliorer la réception Pour effectuer un accord rapide (recherche automatique) Maintenir r, t enfoncés jusquà ce que le tuner commence à rechercher une station. Quand une station est accordée, la recherche sarrête. Si le signal de diffusion est faible, la recherche ne sarrête pas. Pour arrêter la recherche manuellement, appuyer sur r ou t. FONCTIONNEMENT DU TUNER B REPEAT/MODE/OSC- Si la station FM stéréo renferme trop de parasites, appuyer sur la touche de façon que saffiche. Les parasites sont réduits, mais la réception sera monophonique. Pour revenir à la réception stéréo, appuyer de nouveau sur la touche. - Si un son aigu se fait entendre pendant lenregistrement dune émission AM, appuyer de façon répétée sur la touche pour afficher b1 ou b2, de façon à supprimer le bruit. Pour modifier lintervalle daccord AMLe réglage par défaut de lintervalle daccord AM est de 10 kHz/pas. Si lon utilise lappareil dans une région où le système dallocation des fréquences est de 9 kHz/ pas, modifier lintervalle comme suit. 1Appuyer sur s STOP/BAND pour afficher AM. 2Maintenir REPEAT/MODE/OSC enfoncé pendant 5 secondes pour changer lintervalle. Lorsquon modifie lintervalle daccord AM, les stations AM préréglées seffacent. REMARQUESi lappareil capte les parasites dun autre appareil électrique, par exemple un téléviseur ou un tube fluorescent, éloigner lappareil. Déployer lantenne à tige et orienter lappareil de façon à obtenir la meilleure réception possible.Lantenne est incorporée à lappareil. Placer lappareil de façon à obtenir la meilleure réception possible. AM FM RADIO TAPE C D 6 STANDBY FUNCTION B SKIP/SEARCH DOWN TUNING UP STOP / BAND PLAY/ PAUSE / PRESET PROGRAM REPEAT /MODE OSC