---
Aiwa AV D67 Owners Manual
This is the 67 pages manual for Aiwa AV D67 Owners Manual.
Read or download the pdf for free. If you want to contribute, please mail your pdfs to info@audioservicemanuals.com.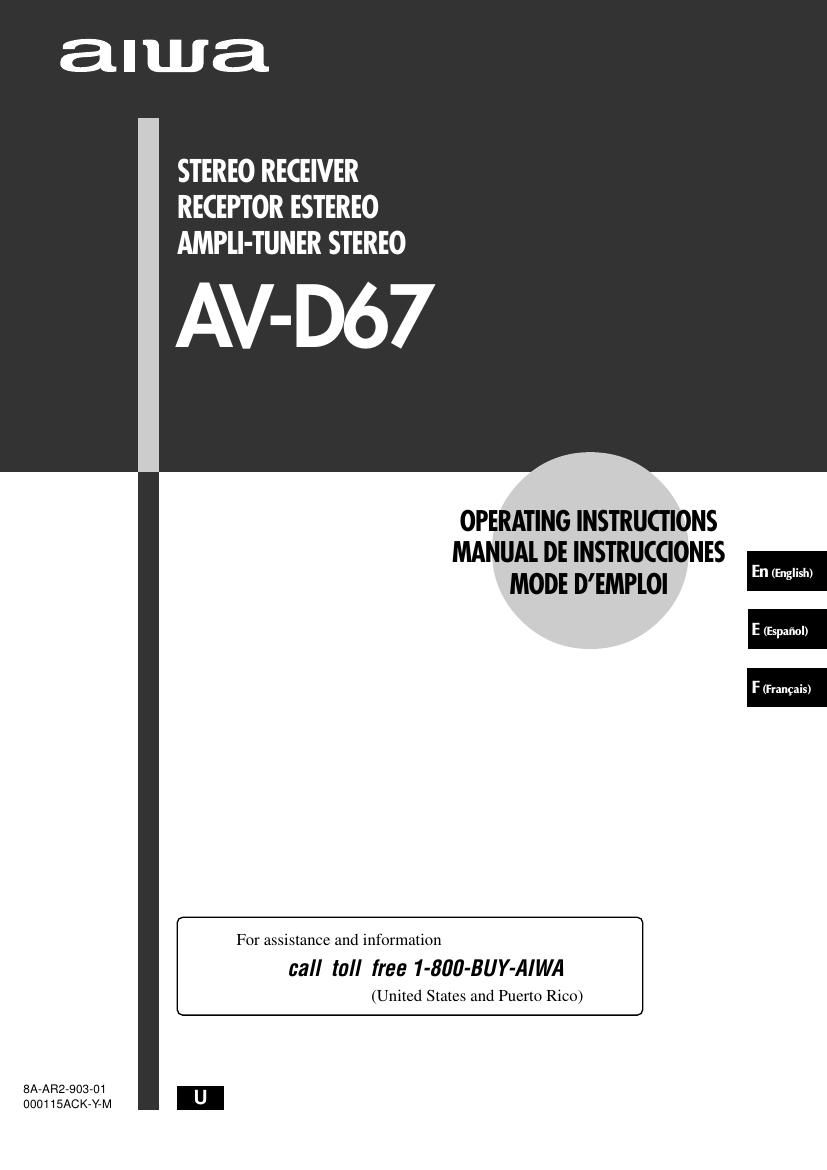 Extracted text from Aiwa AV D67 Owners Manual (Ocr-read)
---
Page 1
1 ENGLISH OwnerÕs record For your convenience, record the model number and serial number (you will find them on the rear of your unit) in the space provided below. Please refer to them when you contact your Aiwa dealer in case of difficulty.Model No. Serial No. (Lot No.) AV-D67 ENGLISH WARNING TO REDUCE THE RISK OF FIRE OR ELECTRIC SHOCK, DO NOT EXPOSE THIS APPLIANCE TO RAIN OR MOISTURE. PRECAUTIONS Read the Operating Instructions carefully and completely before operating the unit. Be sure to keep the Operating Instructions for future reference. All warnings and cautions in the Operating Instructions and on the unit should be strictly followed, as well as the safety suggestions below. Installation 1 Water and moisture Ñ Do not use this unit near water, such as near a bathtub, washbowl, swimming pool, or the like. 2 Heat Ñ Do not use this unit near heat sources, including heating vents, stoves, or other appliances that generate heat. It also should not be placed in temperatures less than 5¡C (41¡F) or higher than 35¡C (95¡F). 3 Mounting surface Ñ Place the unit on a flat, even surface. 4 Ventilation Ñ The unit should be situated with adequate space around it so that proper heat ventilation is assured. Allow 10 cm (4 in.) clearance from the rear and the top of the unit, and 5 cm (2 in.) from each side. - Do not place the unit on a bed, rug, or similar surface that may block the ventilation openings. - Do not install the unit in a bookcase, cabinet, or airtight rack where ventilation may be impeded. 5 Objects and liquid entry Ñ Take care that objects or liquids do not get inside the unit through the ventilation openings. 6 Carts and stands Ñ When placed or mounted on a stand or cart, the unit should be moved with care. Quick stops, excessive force, and uneven surfaces may cause the unit or cart to overturn or fall. 7 Wall or ceiling mounting Ñ The unit should not be mounted on a wall or ceiling, unless specified in the Operating Instructions. Electric P ower 1 Power sources Ñ Connect this unit only to power sources specified in the Operating Instructions, and as marked on the unit. 2 Polarization Ñ As a safety feature, some units are equipped with polarized AC power plugs which can only be inserted one way into a power outlet. If it is difficult or impossible to insert the AC power plug into an outlet, turn the plug over and try again. If it is not still inserted easily into the outlet, please call a qualified service technician to service or replace the outlet. To avoid defeating the safety feature of the polarized plug, do not force it into a power outlet. 3 AC power cord - When disconnecting the AC power cord, pull it out by the AC power plug. Do not pull the cord itself. - Never handle the AC power plug with wet hands, as this could result in fire or shock. - Power cords should be firmly secured to avoid being severely bent, pinched, or walked upon. Pay particular attention to the cord from the unit to the power socket. - Avoid overloading AC outlets and extension cords beyond their capacity, as this could result in fire or shock. 4 Extension cord Ñ To help prevent electric shock, do not use a polarized AC power plug with an extension cord, receptacle, or other outlet unless the polarized plug can be completely inserted to prevent exposure of the blades of the plug. 5 When not in use Ñ Unplug the AC power cord from the AC power outlet if the unit will not be used for several months or more. When the cord is plugged in, a small amount of current continues to flow to the unit, even when the power is turned off. RISK OF ELECTRIC SHOCK DO NOT OPEN "CAUTION: TO REDUCE THE RISK OF ELECTRIC SHOCK, DO NOT REMOVE COVER (OR BACK). NO USER-SERVICEABLE PARTS INSIDE. REFER SERVICING TO QUALIFIED SERVICE PERSONNEL." Explanation of Graphical Symbols: The lightning flash wi h arrowhead symbol, within an equilateral triangle, is intended to alert the user to the presence of uninsulated "dangerous voltage" within the product's enclosure that may be of sufficient magnitude to constitute a risk of electric shock to persons. The exclamation point within an equilateral triangle is intended to alert the user to the presence of important operating and maintenance (servicing) instructions in the literature accompanying the appliance.
Page 30
9 ESPAÑOL ECUALIZADOR GRAFICO ELECTRONICO Esta unidad dispone de los cinco modos de ecualizació n siguientes. ROCK: Acentú a el sonido de graves y agudos. POP: Ofrece má s presencia a las voces y a la gama media. JAZZ: Acentú a las frecuencias bajas para mú sica de tipo jazz. CLASSIC: Ofrece sonido rico con graves profundos y agudos delicados. BGM: Ofrece tono calmado con graves y agudos suprimidos. Presione el bot ón GEQ (ecualizador gr áfico) y gire MULTI JOG hasta que aparezca el modo de ecualizació n que desee. Los modos GEQ se muestran de forma cí clica, de la siguiente forma. El nombre del modo seleccionado se muestra durante cuatro segundos y se ilumina el indicador GEQ. Para cancelar el modo seleccionado Presione el botó n GEQ para mostrar el nombre del modo GEQ y vuelva a presionar el botó n dentro de 4 segundos. En el visualizador aparecerá " GEQ OFF" . Para seleccionar con el controlador remoto Presione varias veces el botó n GEQ mientras presiona el botó n SHIFT hasta que se muestre el modo de ecualizaci ón deseado. Es posible seleccionar cinco modos preajustados y "GEQ OFF" . Modo seleccionado
Page 39
ESPAÑOL 18 E E AJUSTE DEL SONIDO DOLBY DIGITAL SURROUND AJUSTE DEL EFECTO DE SONIDO DE BAJA FRECUENCIA (LFE) Un disco grabado con Dolby Digital Surround contiene señ ales especiales denominadas LFE para reforzar el efecto del sonido de baja frecuencia. Las señ ales LFE se graban en ciertas partes particulares del disco y salen a trav és del altavoz de subgraves para reproducir un sonido bajo sorprendentemente potente. El nivel del sonido de las señ ales LFE podrá ajustarse de acuerdo con los altavoces conectados mientras est é activado el sistema Dolby Digital Surround. Preparativos • Al conectar un altavoz de subgraves, seleccione " SUBW ON" (consulte la pá gina 5). • Reproduzca un disco grabado en Dolby Digital Surround. 1 Mantenga presionado el bot ón N o M hasta que se visualice " LFE". 2 Presione repetidamente el bot ón N o M o gire MULTIJOG para ajustar el nivel LFE. La unidad está inicialmente ajustada a 0 dB (má ximo) y podrá reajustarse como se indica a continuació n. Al seleccionar "SUBW OFF", las señales LFE se redistribuyen entre los demá s altavoces. AJUSTE DE LA GAMA DIN ÁMICA La gama dinámica del sonido Dolby Digital Surround podr á ajustarse. La unidad está inicialmente ajustada al modo " STD" (está ndar). 1 Con Dolby Digital Surround activado, presione el botó n ENTER y manté ngalo presionado hasta que "MID NIGHT THEATER" se desplace por el visualizador. 2 Presione el botó n N o M o gire MULTI JOG para seleccionar el modo "MAX" , " STD" o "MIN" . [MIN] Usted podrá disfrutar de sonido de gama diná mica completa al igual que en una sala de cine. [STD] Posició n original, para reproducir en su hogar, recomendado para productores de software. [MAX] Seleccione este modo cuando desee reproducir a bajo volumen. É ste es el modo recomendado para reproducir por la noche. DOLBY SURROUND
Page 45
FRANÇAIS 2 F 5 Quand l'ampli-tuner n 'est pas utilisé — D ébranchez l' ampli- tuner de la prise murale si vous pré voyez de ne pas l'utiliser pendant plusieurs mois. Quand le cordon est branché , une petite quantité d'électricité s'écoule vers mê me s'il est hors tension. Antenne extérieure 1 Lignes électriques — Quand vous raccordez une antenne exté rieure, assurez-vous qu' elle est suffisamment éloignée des lignes é lectriques. 2 Prise de terre de l' antenne extérieure — Assurez-vous que l 'antenne est raccordé e correctement à la terre par mesure de protection contre les pointes de tension et l' accumulation de charges statiques. L 'article 810 du Code Electrique National, ANSI/NFPA70, fournit des informations pour une mise à la terre correcte des mâ ts et supports, la mise à la terre du fil de connexion à un appareil de dé charge, la dimension de l 'appareil de dé charge, la connexion des é lectrodes de terre et les exigences que doivent remplir les électrodes de terre. FIL DE DESCENTE D'ANTENNE UNITE DE DECHARGE D'ANTENNE (NEC SECTION 810-20) CONDUCTEURS DE MISE A LA TERRE (NEC SECTION 810-21) COLLIERS DE MISE A LA TERRE ELECTRODE DE MISE A LA TERRE DE LA LIGNE D'AMENEE DE COURANT (NEC ARTICLE 250 PARTIE H) NEC: CODE NATIONAL D'ELECTRICITE APPAREILLAGE D'AMENEE DE COURANT COLLIER DE MISE A LA TERRE Mise à la terre d'une antenne selon le code national d'électrlclté(NEC) Entretien Nettoyez l' ampli-tuner comme indiqué dans le mode d'emploi. Réparations exigeant l' intervention d'un professionnel Faites réparer l'ampli-tuner par un professionnel dans les cas suivants: - Le cordon ou la prise secteur a é té endommag é - Des objets ou liquides sont tombé s dans l'ampli-tuner - L 'ampli-tuner a é té exposé à la pluie ou à l'eau - L 'ampli-tuner ne semble pas fonctionner correctement - Les performances de l' ampli-tuner ne sont plus les mê mes - L 'ampli-tuner est tombé ou le coffret a été endommagé NE P AS ESSA YER DE REP ARER SOI-MEME LE RECEPTEUR. TABLE DES MATIERES PRECAUTIONS ................................................................... 1 PREPARATIFS RACCORDEMENTS ............................................................ 3 AVANT DE COMMENCER .................................................. 7 SON REGLAGE PERSONNEL DU SON ..................................... 8 EGALISEUR GRAPHIQUE ELECTRONIQUE ................... 9 PROCESSEUR D' AMBIANCE .......................................... 10 OPERATIONS DE BASE SELECTION D'UNE SOURCE AUDIO OU VIDEO .......... 11 ENREGISTREMENT D' UNE SOURCE AUDIO ................ 12 RECEPTION RADIO ACCORD MANUEL ........................................................... 13 PREREGLAGE DES STATIONS ....................................... 14 DOLBY SURROUND SELECTION DU DOLBY SURROUND ............................ 15 REGLAGE DE LA BALANCE DU NIVEAU DES ENCEINTES .................................................................. 16 REGLAGE DU SON DOLBY DIGITAL SURROUND .................................................................. 18 MINUTERIE REGLAGE DE L 'HORLOGE ............................................. 19 REGLAGE DE LA MINUTERIE D 'ARRET ....................... 19 GENERALITES SPECIFICATIONS ............................................................. 20 SOIN ET ENTRETIEN ....................................................... 21 EN CAS DE PANNE .......................................................... 21 NOMENCLATURE ............................................................. 21 V érifiez vos accessoires Antenne AM Antenne FM Mode d' emploi, etc. Télé commande
Page 55
F FRANÇAIS 12 ENREGISTREMENT D' UNE SOURCE AUDIO 1Sélectionnez la source de programme qui doit ê tre enregistré e. Tournez FUNCTION. 2 Mettez la platine à cassette ou l'enregistreur MD en mode d' enregistrement. 3D émarrez la source de programme sé lectionnée. Pour contrô ler le son enregistr é pendant l' enregistrement (quand la platine à cassette raccord ée a trois tê tes) Appuyez sur la touche TAPE MONITOR. " TAPE ON" apparaît sur l'afficheur pendant quatre secondes, puis le nom de la source s é lectionné e à l'étape 1 ré apparaît. Pour cesser de contrô ler le son, appuyez une nouvelle fois sur la touche pour que "TAPE OFF" apparaisse. •Aucun systè me de contrô le du son n'agit sur l'enregistrement (voir page 8). • Le son fourni aux prises DIGITAL IN ne peut pas ê tre enregistré. Quand vous enregistrez le son du lecteur DVD, CD, MD ou LD, raccordez les prises analogiques AUDIO OUT du lecteur aux prises correspondantes AUDIO IN de l 'ampli-tuner. Le son sera enregistré en stéré o sur 2 canaux. • Pour enregistrer des sources audio à l'aide de l' enregistreur MD raccordé aux bornes VIDEO 1/DVD/MD AUDIO OUT, la source vidé o sélectionné e (voir page 11) doit ê tre V2 ou V3. L 'enregistrement ne peut se faire si V1 (VIDEO 1) est s é lectionné et affiché dans la fenê tre. • Le son fourni par la platine à cassette raccordé aux prises TAPE MONITOR IN ne peut pas ê tre enregistré. POUR ÉCOUTER UN DVD OU UN LD ENREGISTRÉ EN DOLBY DIGITAL SURROUND Cet ampli-tuner est é quipé d'un dé codeur Dolby Digital et a des prises DIGITAL IN (OPTICAL et COAXIAL). Si un lecteur DVD ou LD est raccordé à la prise DIGITAL IN de l' ampli-tuner, vous b énéficierez d' un véritable son ciné matographique lors de la lecture de disques enregistré s en Dolby Digital Surround. Pré paratifs • Assurez-vous que TAPE MONITOR n' est pas sélectionné. Si TAPE MONITOR est sé lectionné, appuyez sur la touche TAPE MONITOR pour que " TAPE OFF" apparaisse sur l' afficheur. • Lors du raccordement d' un lecteur LD équipé d'une prise AC-3 RF OUT, utilisez un d émodulateur RF. Raccordez aussi les prises analogiques AUDIO OUT du lecteur LD à l 'ampli-tuner pour l'écoute des diffé rentes sources. Pour de plus amples informations, consultez les instructions du lecteur LD. 1 Tournez FUNCTION pour sé lectionner VIDEO 1 (VIDEO 2 ou VIDEO 3) et appuyez plusieurs fois de suite sur la touche DIGITAL/ANALOG/BAND jusqu'à ce que l' indication "DIGITAL" s'affiche. Le lecteur DVD (LD) raccord é à la prise OPTICAL (COAXIAL) DIGITAL IN est sé lectionné comme source. 2 Commencez la lecture du DVD (LD) enregistr é en Dolby Digital Surround. L 'indicateur "DOLBY DIGITAL" s'allume dans l' afficheur lorsque le train de bits du Dolby Digital Surround entre dans l 'appareil. Pour sé lectionner le mode Dolby Digital Surround approprié pour vos enceintes, reportez-vous à " SELECTION DU DOLBY SURROUND" à la page 15. • Quand TAPE MONITOR est sé lectionné et l'indicateur TAPE MONITOR est allumé en rouge, "DIGITAL" ne peut pas ê tre s é lectionné . • Quand un casque est branché , le mode Dolby Digital Surround devient automatiquement " 2chSTEREO" et l'indicateur "2CH DOWNMIX" s'allume sur l' afficheur. Le mode ne peut ê tre changé lorsque le casque d'écoute est branché , même en appuyant sur la touche DOLBY SURROUND. • Cet appareil supporte les signaux d' entrée du train de bits du Dolby Digital Surround et les signaux PCM lin éaires dont la fré quence d'échantillonnage est de 32 kHz, 44,1 kHz et 48 kHz. Cet appareil ne peut pas lire les DVD dont la fr équence d 'échantillonnage est de 96 kHz. • Lorsque certains lecteurs DVD sont raccordé s à l'ampli-tuner par les bornes DIGITAL IN, du bruit peut ê tre audible pendant le fonctionnement du lecture DVD: par ex. recherche de disque, saut de chapitre. OPERATIONS DE BASE
Page 66
Printed in Malaysia For assistance and information call toll free 1-800-BUY-AIWA (United States and Puerto Rico) NOTE This equipment has been tested and found to comply with the limits for a Class B digital device, pursuant to Par t 15 of the FCC Rules. These limits are designed to provide reasonable protection against harmful interference in a residential installation. This equipment generates, uses, and can radiate radio frequency energy and, if not installed and used in accordance with the instructions, may cause harmful interference to radio communications. However, there is no guarantee that interference will not occur in a particular installation. If this equipment does cause harmful interference to radio or television reception, which can be determined by turning the equipment off and on, the user is encouraged to try to correct the interference by one or more of the following measures:- Reorient or relocate the receiving antenna. - Increase the separation between the equipment andreceiver. - Connect the equipment into an outlet on circuit different from that to which the receiver is connected. - Consult the dealer or an experienced radio/TV technician for help. CAUTION Modifications or adjustments to this product, which are not expressly approved by the manufacturer, may void the userÕs right or authority to operate this product.