---
Acoustic research AW 822 Owners Manual
This is the 13 pages manual for acoustic research AW 822 Owners Manual.
Read or download the pdf for free. If you want to contribute, please mail your pdfs to info@audioservicemanuals.com.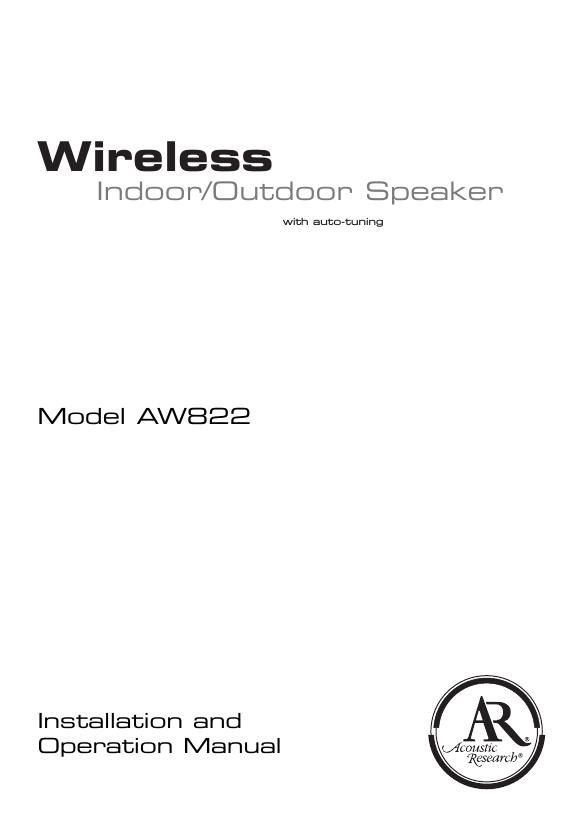 Extracted text from acoustic research AW 822 Owners Manual (Ocr-read)
---
Page 1
Important Information RISK OF ELECTRIC SHOCK. DO NOT OPEN. CAUTION Caution: To reduce the risk of electric shock, do not remove cover (or back). No user serviceable parts inside. Refer servicing to qualified service personnel. FCC Statement This equipment has been tested and found to comply with the limits for a Class B digital device, pursuant to part 15 of the FCC Rules. These limits are designed to provide reasonable protection against harmful interference in a residential installation. This equipment generates, uses, and can radiate radio frequency energy and, if not installed and used in accordance with the instructions, may cause harmful interference to radio communication. However, there is no guarantee that interference will not occur in a particular installation. If this equipment does cause harmful interference to radio or television reception, which can be determined by turning the equipment off and on, the user is encouraged to try to correct the interference by one or more of the following measures: - Reorient or relocate the receiving antenna. - Increase the separation between the equipment and receiver. - Connect the equipment into an outlet on a circuit different from that to which the receiver is connected. - Consult the dealer or an experienced radio/ TV technician for help. FCC Regulations state that unauthorized changes or modifications to this equipment may void the users authority to operate it. Product Information Keep your sales receipt to obtain warranty parts and service and for proof of purchase. Attach it here and record the serial and model numbers in case you need them. These numbers are located on the product. Model No.: _______________________________ Purchase Date: ____________________________ Dealer/Address/Phone: _____________________ Important Safety Instructions1. Read these instructions. 2. Keep these instructions. 3. Heed all warnings. 4. Follow all instructions. 5. Clean only with dry cloth. 6. Do not block any ventilation openings. Install in accordance with the manufacturers instructions. 7. Do not install near any heat sources such as radiators, heat registers, stoves, or other apparatus (including amplifiers) that produce heat. 8. Protect the power cord from being walked on or pinched particularly at plugs, convenience receptacles, and the point where they exit from the apparatus. 9. Unplug this apparatus during lightning storms or when unused for long periods of time. 10. Refer all servicing to qualified service personnel. Servicing is required when the apparatus has been damaged in any way, such as power-supply cord or plug is damaged, liquid has been spilled or objects have fallen into the apparatus, the apparatus has been exposed to rain or moisture, does not operate normally, or has been dropped. Care and Maintenance- Always use a soft cloth to clean the speaker and transmitter. Never use any product containing alcohol or other solvents as they may damage the surface.- Use caution when plugging the power transformers in an AC outlet to avoid the risk of electric shock.- If the speaker are used outside on a deck or patio, make sure you take them indoors in the event of a rainstorm to prevent possible damage.- Do not operate or store the system in extreme temperatures (below 32ºF/0ºC and above 122ºF/50ºC).
Page 2
Table of Contents Introduction ARs Wireless Speaker System eliminates the hardest part of adding speakers to your home-running and hiding hundreds of feet of speaker wire. The AR Wireless Speaker Systems RF signal travels with ease through walls, floors, ceilings and other obstacles, delivering high-quality sound virtually anywhere inside the house or out. With drift- and static-free reception along with outstanding range-up to 250 feet*-the possibilities for enjoying your AR Wireless Speaker System are nearly unlimited. The AR Wireless Speaker System is compatible with most audio sources, such as TVs, DVD players, VCRs, A/V receivers/amps, stereos, computers, and portable devices (CD players, cassette players, MP3s etc.). This manual covers various connection options and detailed operating instructions for making the AR Wireless Speaker System a valued part of your lifestyle. If, after having reviewed the instructions, you have any questions, please call toll-free 1-800-732-6866 or visit www.araccessories.com. *Range may vary according to environment. Introduction ........................................................................\ ............... 1 Tour of the Speaker System ............................................................. 2 Connecting the Speaker System ...................................................... 4 Adjusting the Transmitter ................................................................ 6 Tuning the Speaker ........................................................................\ ... 6 Turning the Speaker Off ................................................................... 7 More Helpful Information ............................................................... 8 Troubleshooting ........................................................................\ ......... 9 Specifications ........................................................................\ ........... 10 12 Month Limited Warranty .......................................................... 10