---
Acoustic research ARRX 18 G Owners Manual
This is the 48 pages manual for acoustic research ARRX 18 G Owners Manual.
Read or download the pdf for free. If you want to contribute, please mail your pdfs to info@audioservicemanuals.com.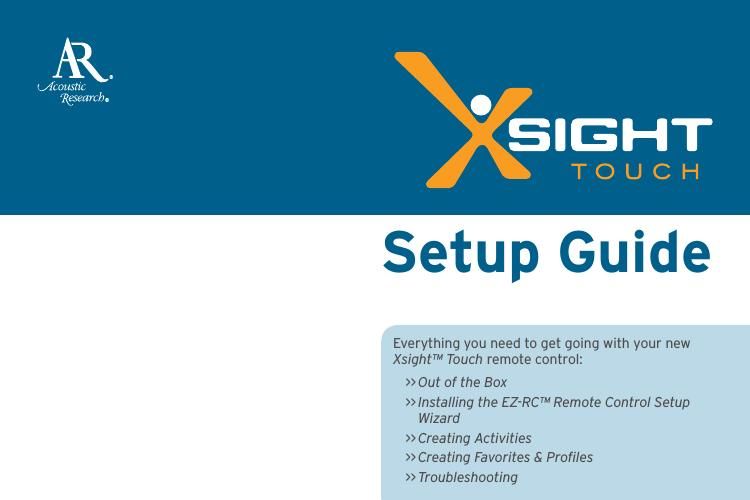 Extracted text from acoustic research ARRX 18 G Owners Manual (Ocr-read)
---
Page 1
2 Out of the Box Cradle rest 1 Unpack The first step is to make sure youve got the following parts in your package: Quick Look: > Unpack > Charge the remote > Get to know the interactive touchscreen > Remote setup > On-remote setup of TVs, A/V components, and other devices What youll be doing by the end of this section: Controlling your home theater devices Out of the Box Remote Li-ion battery Cradle base AC adapterUSB adapter CD-ROM This setup guide Setup Guide Everything you need to get going w th your new Xsight Touch emote control > Out of the Box > Insta ling the EZ RC Remote Control Setup Wizard > Crea ing Actvi ies > Crea ing Favor tes & Profiles > Troubleshooting
Page 2
Out of the Box 3 Out of the Box 2 Charge the remote The next step is to install the Xsight-"˘ Touchs rechargeable battery, plug in its cradle, and let it charge for 3 to 4 hours. Remove the battery door from the back of the Xsight-"˘ Touch. Press up on the latch to release the door. Install the rechargeable battery in the Xsight-"˘ Touchs battery compartment and replace the battery door. Assemble the charging cradle by sliding the cradle rest into the cradle base as shown here. Plug the AC adapter into the cradle as shown. Plug the other end of the adapter into a wall outlet or surge protector. You can use the remote right away (batterys charged), but we recommend full charge before first use-3-"4 hours. Place the remote in the cradle and leave it to charge for 3-"4 hours. Need help setting up this remote? Please call our help line toll-free at 1-800-276-0509.