---
Acoustic research ARRX 15 G Owners Manual
This is the 48 pages manual for acoustic research ARRX 15 G Owners Manual.
Read or download the pdf for free. If you want to contribute, please mail your pdfs to info@audioservicemanuals.com.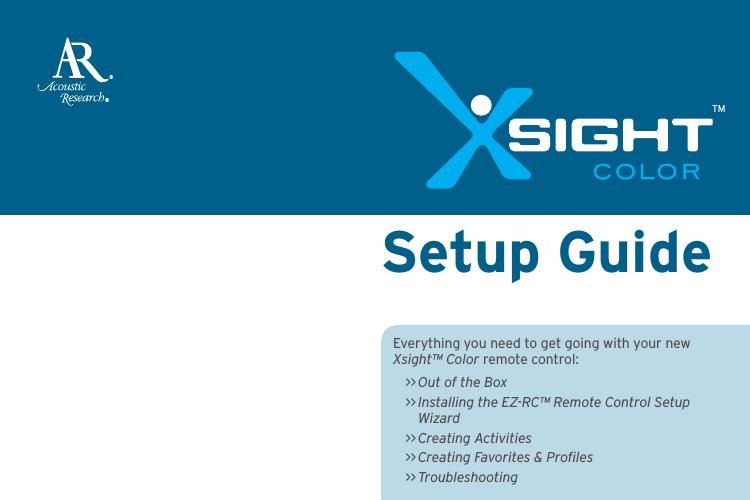 Extracted text from acoustic research ARRX 15 G Owners Manual (Ocr-read)
---
Page 1
2 Out of the Box 1 Unpack The first step is to make sure youve got the following parts in your package: Quick Look: > Unpack > Install batteries > Get to know the interactive LCD screen > Remote setup > On-remote setup of TVs, A/V components, and other devices What youll be doing by the end of this section: Controlling your home theater devices Out of the Box Remote Batteries (3 x AA) USB adapter CD-ROM This setup guide Setup Guide Everything you need to get going wi h your new Xsight Color emote control >> Out of the Box >> nstal ing the EZ RC Remote Control Setup Wizard >> Creating Ac ivi ies >> Creating Favo ites & Profiles >> Troubleshooting
Page 2
Out of the Box 3 Out of the Box 2 Install batteries The next step is to install the Xsight-"˘ Colors batteries. Remove the battery door from the back of the Xsight-"˘ Color. Press up on the latch to release the door. Insert the batteries (provided in this package), matching them to the (+) and (-) marks inside the battery case.Replace the battery door. Need help setting up this remote? Please call our help line toll-free at 1-800-276-0509.