---
Accuphase DP 77 Owners Manual
This is the 41 pages manual for Accuphase DP 77 Owners Manual.
Read or download the pdf for free. If you want to contribute, please mail your pdfs to info@audioservicemanuals.com.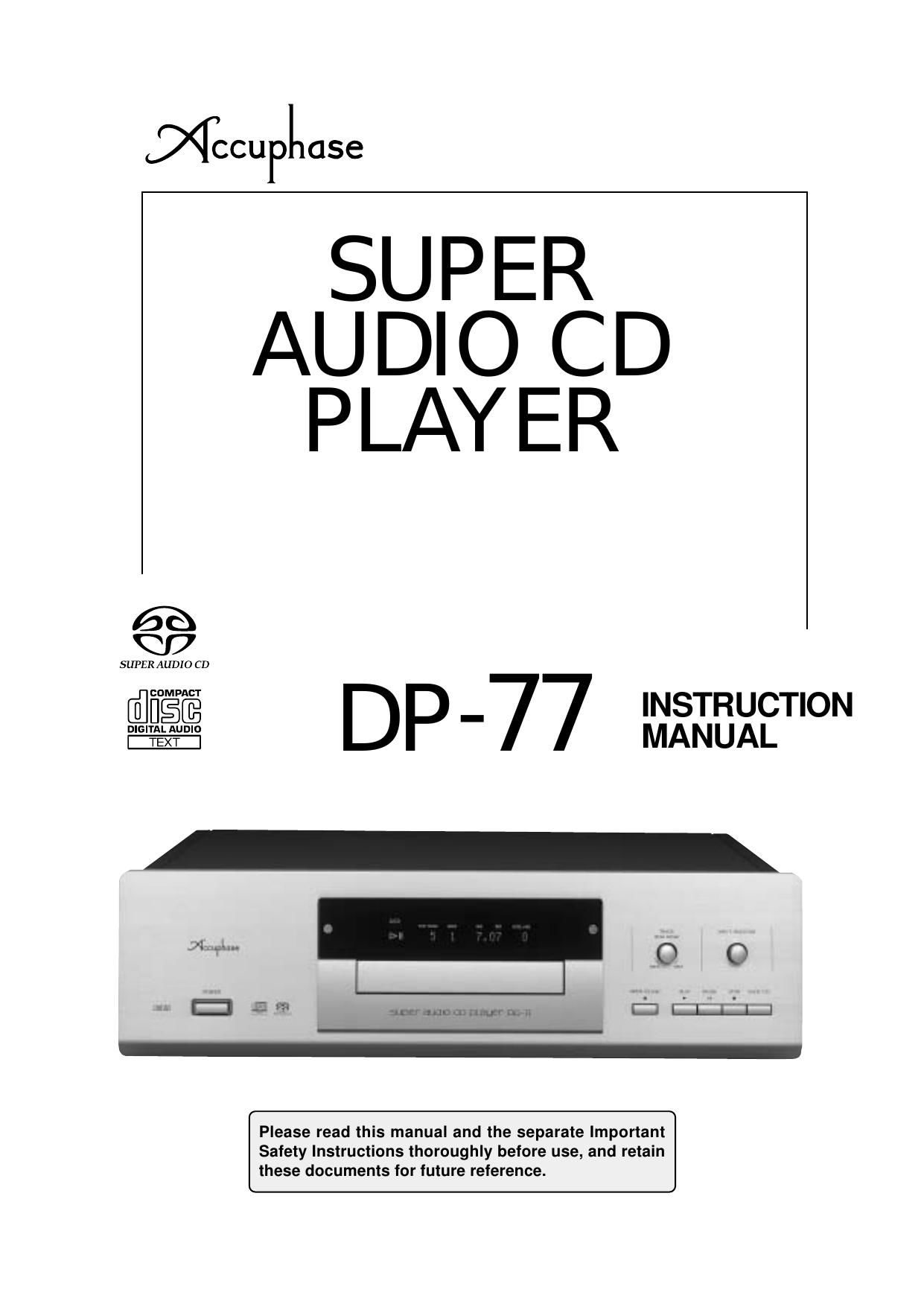 Extracted text from Accuphase DP 77 Owners Manual (Ocr-read)
---
Page 1
1. Naming of Parts Front Panel, Rear Panel 1 Display / Remote Commander 2 2. WARNINGS 3 Before Use / Supplied Accessories 3 PRECAUTIONS / Usage Precautions 4 Connection Precautions 5 Recording With the DP-77 5 Compatible Disc Types 5 3. Connection Diagram 6 4. Parts and Functions 7 - 9 5. Operation Use as a Regular SACD/CD Player 10 - 19 Basic Playback Steps 10 Function Mode Selection 11 Display brightness -Power-on play Auto-pause-Return settings to factory defaults Display Display During Play 12 Display in Stop Mode 12 Display Mode Selection 12 Text Information Display 13 Various Play Functions Pausing Play 14 Standby 14 Starting Play From a Specific Track 14 Searching for a Location Within a Track 15 Repeat Play 16, 17 Shuffle Play 17 Program Play 18, 19 Using the DP-77 as a Transport 20, 21 Connection to the DC-330 20 Digital Connection of the DP-77 to the DC-330 or DF-35 21 Connection to the DC-101 21 Using the DP-77 as a Digital Processor 22 Input of SACD/CD, MD, DAT or Other Digital Signals 23 Recording/Playback With a Digital Recorder 24 DG-28/DG-38 Connection 25 - 27 Digital Connection Example 25, 26 Analog Connection Example 27 6. Useful Options for the DP-77 28 - 32 Option Board Installation 33 7. Remote Control 34 8. Guaranteed Specifications 35 9. Performance Graphs 36 10. Block Diagram 37 11. Troubleshooting 38 ¢£ CONTENTS Thank you for purchasing this Accuphase product, which is another manifestation of our efforts to create the highest quality audio components. The strictest control was exercised throughout our entire manufacturing process in producing this component µ from basic research, the selection of each part, assembly, testing, data recording, up to packing and shipping µ so that we supply the product with every confidence that it will provide full sat- isfaction and pride in ownership. We are pleased to heartily welcome you to the fast-growing Accuphase circle of distinguished audio enthusiasts and devotees of true sound. About the mark Disregarding instructions bearing this mark incurs the risk of light injury to persons or damage to the product. WARNING: Disregarding instructions bearing this mark incurs the risk of death or severe injury. CAUTION: This mark indicates an important instruction that must be observed to prevent the possibility of death or injury to persons or severe damage to the unit. To ensure safe use of the product, make sure that such instructions are fully understood and observed.
Page 2
REAR PANEL FRONT PANEL 1 For detailed explanations, please refer to the pages given in brackets. 1. Naming of Parts 1 10 11 2 8 9 3 4 5 6 7 12 13 14 15 16 Display(page 2, 7, 12) OPEN/CLOSE button for disc tray (page 7, 10) Remote sensor(page 7, 34) TRACK search knob [PUSH: ENTER] (page 7, 11) INPUT SELECTOR(page 7, 22) Disc tray(page 7) POWER switch (page 7) SACD/CD button(page 7, 10) PLAY button(page 7, 10) PAUSE button(page 7, 10) ÙSTOP button(page 7, 10) [press for 2 seconds : setting mode](page 11) DIGITAL INPUTS(page 8, 22, 23) TRANSPORT OUTPUTS(page 8, 20) ANALOG OUTPUTS(page 8) AC inlet(page 8) OPTION board slots 1, 2(page 8) This product is available in versions for 120/230 V AC. Make sure that the voltage shown on the rear panel matches the AC line voltage in your area. Þ